Post by Admin on May 24, 2016 9:03:20 GMT -6
Not all Loaders are Created Equal nor Tested Equally. There is no verification source to assure all manufacturers are testing on a level playing field but most manufacturers supply their own recommended lifting capacities from their own testing. They may over-perform and some may under-perform too. But we will assume they are equal for comparison purposes. What we want to explain is how you can compare and compare as close to apples-to-apples.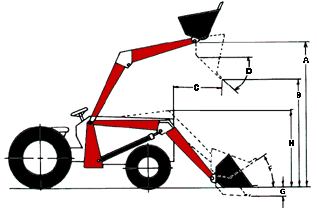 1) Loader Lift Height:
First thing you need to look at is Maximum Lift Height of the Loader not all loaders lift the same height. The Higher a Loader Lifts the lower the lifting capacity. Just like you lifting a cinder block it's much easier to lift the weight and set on a Desk than on Top of a Shelf Unit. Same thing applies to Loader Lifting Capacity the higher you go, the harder it is to lift the load. So if One Brand of Loader Lifts 95" and another lifts 100" if they have equal lifting capacity the loader that lifts 100" will have lower Max Lift Capacity if they are Equal at 95"...it's Basic Physics. So when Comparing Max Lifting Capacities the height of raise is very critical in determining the Lifting Capacity.
2) Measurement Location:
There are 2 Basic Points of Reference when Manufacturers Publish Lifting Capacity Data. At the Pivot Pin or Distance in Front of the Pivot Pin (Normally 19.6") The 19.6" provides a more true Full Bucket Lifting Capacity Measurement. The farther the load is in front of the Pivot Pin the Lower the Maximum Lifting Capacity...it's Basic Physics. So make sure you are comparing at the same point when comparing loader lifting capacity.
3) Lift Capacity:
Lift Capacity is Typical Published at the Maximum Lift Height. The Higher you lift a load the harder it is to lift and the less the loader can lift...it's Basic Physics. Loads that will be carried for a distance is always recommended to carry the load low to the ground. The Lower you carry the loader or need to raise the more lifting capacity that loader will have. This Chart Below Shows an Example of Lifting Capacity versus Height of Raise. No matter the loader it will always have a similar curve with weight being reduced as you lift higher.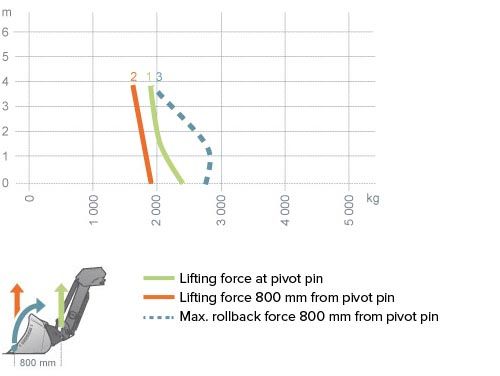 4) Breakout Force:
Breakout Force is the Lifting Capacity at Ground Level and can be rated at Pivot Pin or Dimension Forward of the Pivot Pin as we discussed earlier. Make Sure you are looking at the same measurement point.
5) Other Factors:
Hydraulics effect loader performance. Hydraulic Pressure (PSI) along with Loader Design effects the Lifting Capacity. Hydraulic Gallons Per Minute along with Cylinder Size determines Loader Lifting Speed. A Larger Bore Cylinder will lift slower than a smaller bore cylinder with the same gallons per minute (GPM) but a loader with the same size cylinder displacement and higher Hydraulics Gallons Per Minute will raise faster. Here is a good way to compare loader performance by testing loader performance at Idle Speed you can see the partnership of the Loader and Tractor working together.
The Number One thing when comparing Loaders and Loader Specs is to look at the Total Performance Package. Just because a loader may excel in one spec..doesn't mean it is superior to another loader. But looking at all the specs and how it compares overall is most important. And Most Importantly Comparing the Specs at the Same Distance or Measuring Point. Hope this helps...Understanding Loaders and Loader Lift Capacity.